A cover for the beloved's
Kindle
...
It was request submitted by himself about 6 months ago
and like so many other husbandly requests
- it was duly noted and swiftly forgotten.
Skip forward to this woman frantically thinking
'What? oh! what can I make for my Christmas market stall ?'
Ah! 'Kindle Covers' !!!!
I started last night and due to too much enthusiasm and too little
actual measuring
I failed miserably! The Kindle didnt even come close to fitting in its cover !
Erm ! Yes ..the beloved may not have been enamored by that PARTICULAR fabric .. ...
Perhaps I was thinking of my market stall ? and NOT the beloved ?
and maybe this epic fail was the universe was trying to tell me a little something !
So I got up this morning determined to make amends and make a new cover,
picked a fabric hubby actually likes
and got busy with the measuring tape
and in no time at all ...success!!
Ladies and Gentlemen - I give you
- The CraftLee Kindle Cover -
Success! how neat is that ?! It has a little fabric tab with velcro to keep it closed.
There's a pocket inside to keep your Kindle sung when your not reading.
There are cute little fabric tabs to hold the Kindle in place when your reading.
Pretty chuffed with myself & it was a super easy sewing project really if your machine can handle a lot of layers.
I'm off now to polish a spot on the mantelpiece for my 'Wife Of the Year Award' !!!
I have some exciting news tomorrow as I'm co-hosting an event with my new pal Rosie over at
Craftbotic
so stay tuned!
*Update*
This project has been featured ! by the Lovely Lindsey at here 'Twirl and Take a Bow Party :)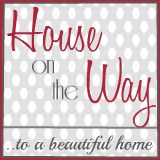 Thank you for visiting & do come back soon !
Love Siubhan x x x